This was very much a last minute decision to go on this trip. The original plan was to go to Beef Basin, where I wanted to spend two full days simply exploring the side tracks and taking a few hikes, getting to know the place better, as opposed to just touring through as in the past. I had tried to make this same trip last year in April, but a call from my Sister in the middle of the night to let me know my Dad had just passed away, hours before my planned departure, put my Beef Basin exploration trip off for another year. I'd been trying to get this years trip coordinated so that a friend could accompany me, but talking to him Tue. night, he said he just wasn't going to be able to make it anytime in the next couple months. So I looked at the weather forecast, saw it was good, bounced the idea off my Wife, and decided to leave the next day after work and just go by myself. The next day, Wed. the 25th, I left work a bit early, stopped at the grocery store for supplies on the way home, and did a hurried job of throwing all my gear in the Jeep. Earlier in the day I had thought about calling the visitors center at the Needles entrance to Canyonlands, to inquire about current conditions on the Cottonwood route into Beef Basin, but I just got too busy and it didn't happen. I knew there was a possiblity of not being able to get in by that route this early. I figured that if I couldn't make it by that route, that I'd just take Elephant Hill in. But… Just before leaving, my Wife, Cindy, extracted a promise from me that I would be "extra careful" and not "take any chances". She's a really good sport about this kind of stuff, in general. But since my last really "Great Misadventure", five years ago (just think "missing for three days, walking 34 miles, spending two winter nights on the open desert without shelter etc…"), she's been pretty nervous anytime I take off on a trip like this by myself. She has been on the Elephant hill route with me, and specifically requested I not go that route by myself on this trip. So, I made the promise, and reluctantly told myself that I had better keep it…
I stopped in Moab to fill my tank and both gerry cans, and eat a rack of ribs at the Brewery, before continuing on. It was getting late by the time I approached the turnoff to Needles. I decided to save that scenery for daylight, and pulled off on the East side of the highway, heading into East Canyon. I was thinking to use a campsite I know tucked up into a fold of Deer Neck Mesa. But it was late, I was tired, and when I spotted a side road that looked likely to get me out of most of the wind on the side of South Canyon Point, I figured "good enough".
There was a bit of wind blowing, but my spot was protected from most of it and the night was not too cold. Tired as I was and late as it was, I skipped the tent and just set out my cot and sleeping bag next to the Jeep. Here's a murky pic of camp that night:
Time to prepare my coffee for the next morning, as is my habit. I always get it setup so all I have to do when I roll out in the morning is light the stove and by the time I have my camp broke down and repacked, coffee is ready and waiting. I broke out the fairly new Coleman stove (three years old, maybe?). Hmmm… I have a problem… The regulator had somehow managed to spontaneously self destruct since I last used it only a few weeks ago. Didn't look repairable… The stove would be MIA for the rest of this trip… No problem, "The Gizmo" to the rescue! The Gizmo is just a metal milk crate, with a single burner attached. The crate holds my camp pots and pans, propane fuel and is also normally stocked with a few canned goods. On real last minute over night trips, I can just grab The Gizmo and go – camp kitchen and grub, self contained, ready to rock at all times. The Gizmo has seen literally more than ten thousand miles of bad dirt road in it's day, usually bouncing around in the bed of my pickup and is some the worse for such wear. I found that since the last time I had cooked on it, the burner on it had also decided to self destruct. Unlike the regulator for the stove though, the burner was easily repairable and soon enough my coffee for the next morning was ready to go.
Camp set, I sat with an electic lantern and read the final chapter of "House of Rain", by Craig Childs. A FANTASTIC read, I'd ordered if off a tip from a poster on RME. Finally, too tired to care about the cold wind, I climbed in my cot. The stars were out in force. A sliver of the highway to the north was visible, the occasional tail lights of passing vehicles going up the long grade appearing to climb right into the stars.
I slept well. Morning found only a light skim of ice on the coffee water. It took only a minute to stow my bedding back in the Jeep, and only another minute before coffee was done and it was time to roll, the sun not yet showing itself. I drove slowly on the highway towards Canyonlands as the sun was rising behind me. Numerous mule deer were along the shoulders, occasionally in the road, and several very nice bucks among them – one that looked to go an honest 30+ inches. I noted a couple had loose antlers, or only one antler, a good spot to hunt for sheds in the next few days, I thought to myself.
Soon I was making the turn off the pavement for Beef Basin. I noted with some optimism, that the ground was dry, no snow, no mud, at this elevation. I stopped at the old mine entrance along Indian creek to air down the tires and disconnect the sway bar.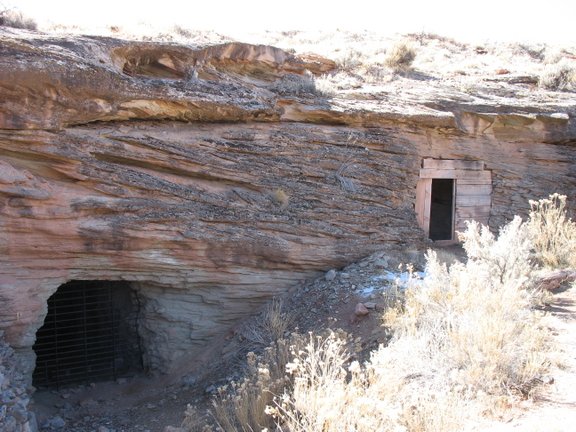 As the road climbed Salt Creek Mesa and gained elevation, the surface turned from dry dirt to patches of mud – still firm and half frozen this early in the morning. Deep ruts attested to the fact that it would be less firm later in the day. Soon I was noting where ruts were ending and vehicles had turned around. By the time Boundary Butte came in view, there were no more ruts – it appeared I might be the first to venture this far this spring. I took this as a bad sign… Now I was encountering occasional patches of snow across the road. Unbroken by vehicle tracks. Then I was encountering long stretches of totally snow covered road. Then I was having to make multiple attempts at some of the deeper stretches, breaking track and using momentum to maintain forward progress. Soon enough, rounding the shoulder of Boundary Butte, forward progress was halted…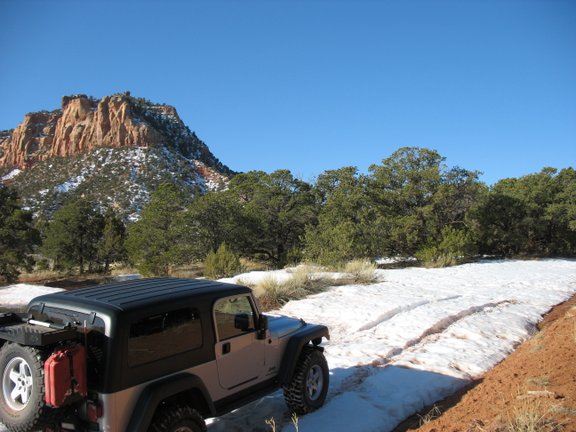 I walked up the road about a half mile. No doubt I could winch through what I was seeing, but a solo winchfest, with an uncertain outcome, and my promise to Cindy, I had to concede defeat.
Rats… Know this, about me; I have had an incurable sense of adventure my whole life. And when it comes to making promises not to take chances, I really can not be trusted. Sometimes, I might take chances I have promised not to. Hard to believe, I know, but, I've seen me do it… A new plan was hatched. I'd go refuel at Needles Outpost (this detour had depleted my fuel supply significantly), then inquire at the visitors center about conditions on Elephant Hill, Devils Lane to Bobbies Hole.
Strike one… Needles Outpost wasn't open yet. Sign on the locked gate said "Open March 1st". Oh well… If I was careful, I could probably still make it into the Basin and back out, detouring to Monticello for gas before heading north to go home. I just wouldn't be able to do all the exploring I'd planned.
Srike two… The friendly ranger at the visitors center informed me that some huge boulders had fallen onto parts of the Elephant Hill trail and Devils Lane. He showed my pictures, only two days old. Difficult but not impossible to get around. Then he said the Bobbies Hole had fared even worse over the winter and in his words was "WAY worse than usual". His warnings, my fuel situation and last but not least my promise to Cindy all overcame my chronically bad judgement, and I had to concede that my Beef Basin exploration was to be postponed again. A map of my aborted attempt:
On down to Monticello for fuel I went. After gassing up and eating a couple sandwiches, it was time to decide "where to". I decided to simply head south and west towards the Comb Ridge/Butler Wash area and go wherever looked interesting. I stopped to check out the Butler Wash ruins overlook:
Soon after, I turned south off the hiway onto the Comb Wash road, stopping to look at the signboard and map. Ahhh… South down this road is the Snow Flat road. I'd read something about that route on ExpUT just recently. Supposed to be good camping to be had along there. Sounded good, looked good, off down Comb Wash road I went. I saw a couple of camps in the cottonwoods near the hiway, but nobody visible in them. A few miles down the wash I passed a family of three on ATV's going the other way. These would prove to be the only people I would see while offroad for my entire trip. I had no good maps of the area with me, just the Garmin topo's loaded on my GPS. The GPS showed a potentially interesting shortcut from the Comb Wash road connecting with the Snow Flat road near The Twist. Turned out to be a dead end, or if open the route not easy to see, so I back tracked and continued down Comb Wash until the next potential connector to Snow Flat. This one went through, weaving through the tamerisk and a bit of mud. A few miles up the Snow Flat road, a side road beckoned. The other end of the route I had tried earlier. It was getting towards evening, I turned down it, looking for a camp spot. I only went a mile and stopped for the night. This track kept going, heading down into Fish Creek. I've no idea how much further it actually goes though.
It was a pleasant evening, so I decided to forego the tent again. Here's a pic of camp Thur. night: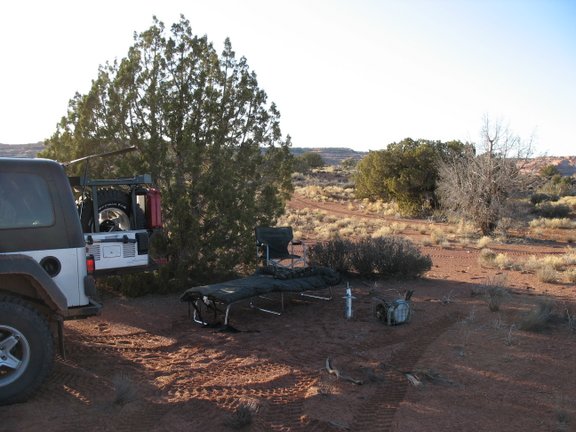 And the view of Fish Creek canyon, with the snow capped Blue's in the distance, from my cot: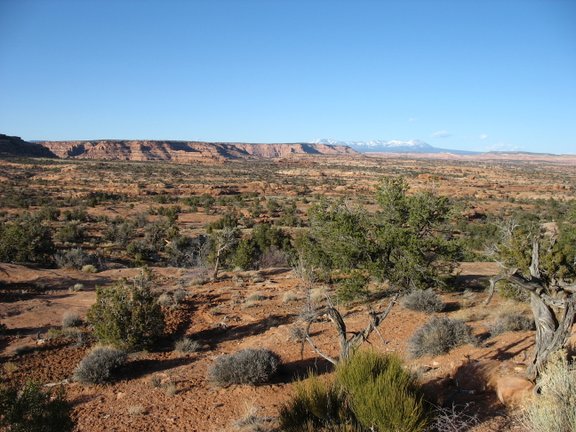 Broke out The Gizmo, cooked up a nice ribeye steak and fried potatoes for dinner.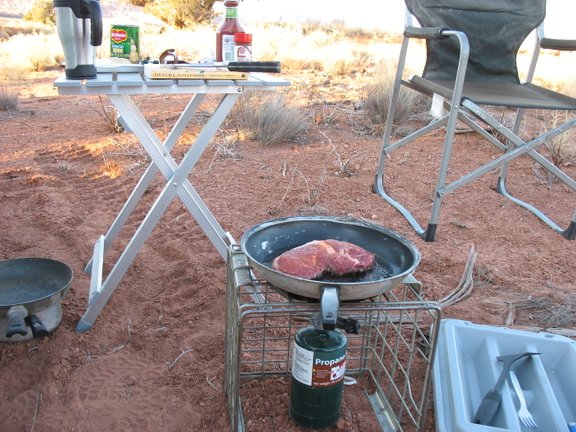 After dinner, there was still a bit of light left, so I took a short hike around. Along with the sign of mule deer, I noted a few sets of coyote tracks, one set of bobcat track and the tracks of a smallish lion. The predator fraternity appeared to be well represented here. I sat with the lantern and started a re-read of Abbey's Desert Solitaire that evening, puffing on a nice cigar and sipping Irish whiskey. Abbey is a great smelly azz hole, I think, but the guy sure writes good.
Along about 4am, I was awakened by the cold. An icy wind had started to blow. My sleep for the next couple of hours was fitful, at best… Finally though, the first gray light of false dawn appeared and was all the encouragement I needed to get up and get moving. The coffee water had a layer of ice an inch thick on it this morning. Took awhile longer than usual to brew. Soon enough though I had camp packed and was rolling again. Sipping hot coffee, dosed liberally with Bailey's Irish cream, eating a danish, watching the world over the hood of my Jeep, filling with sunlight all around. It just doesn't get much better than this…
Back to the Snow Flat road, and only about a mile up it, I saw what looked to me like a good spot to call in a coyote. So I pulled off the track, dug out my rifle and my call, and walked around the corner of a hill into a small canyon where I concealed myself and played a few bars of the dying rabbit blues. Sure enough, after about ten minutes, a pretty coyote, fur bleached blonde by the sunlight of a long winter and glowing like a neon light in the early morning sun, came bounding towards me. I placed the crosshairs and pressed the trigger. Now I had a coyote to carry back to the Jeep. While carrying my coyote back to the Jeep, I saw some tracks that at first I thought were mule deer, but they were different. Not antelope, either. Bighorn sheep, perhaps? There were quite a few coyote tracks too. A little bit further along I saw lion tracks – a big one, this time. Two lions, in such close proximity, it's not often I see that. Back at the Jeep, I hoisted the coyote up on the dead coyote rack and continued on up the road.
The scenery on all sides was AWESOME. Every inch of the way. At The Twist, I stopped to take a couple of pictures.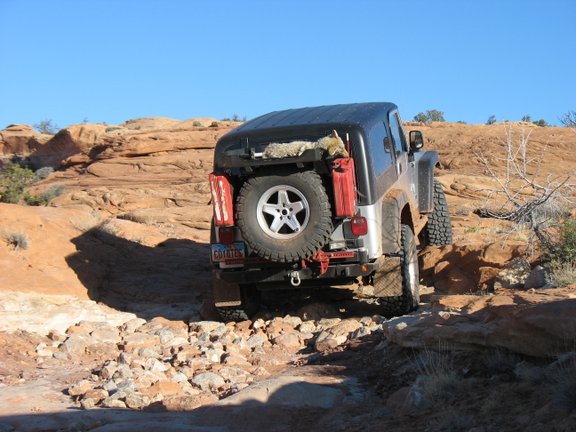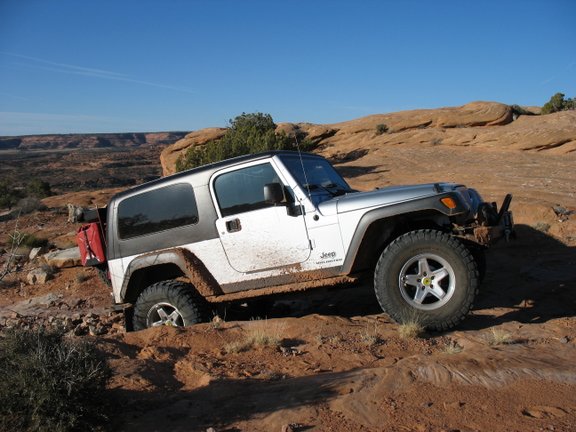 When I got to the side road to Snow Flat, I turned down it. Before reaching the end, I stopped to skin the coyote, disposing of the carcass well back into the brush where nobody but the ravens and magpies were ever going to see it. At the parking area at the end, I stopped to eat a sandwich and drink some more coffee before taking the hike down the the spring caves. I got all the way down there before thinking about the camera. Wish I had remembered it, the area of the springs was really something to see.
Shortly after getting back on the main dirt road, what before my wandering eyes should appear, than prima facie confirmation of my earlier track identification!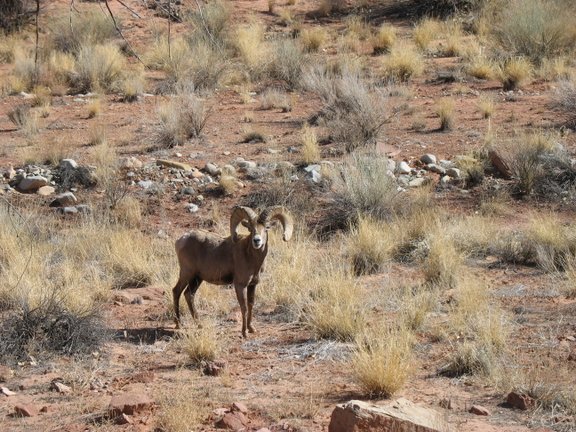 Just too dang cool!
From there back to the hiway was uneventful. But, now here I was now, at pavement again, only 11:00am, and no plans for the rest of the day. What to do, what to do? I looked at the GPS, scrolling around the area, seeing what I could see. Arch Canyon! Heck yeah, plenty of daylight left to go run Arch Canyon. With just a quick stop to check out the Mule Canyon ruins along the way, I was pulling north off the hiway onto the dirt road for Arch Canyon at noon sharp.
Arch Canyon was AWESOME! I had the whole thing to myself, not another soul to be seen. I'll simply let the pictures do the talking, for my day spent driving it.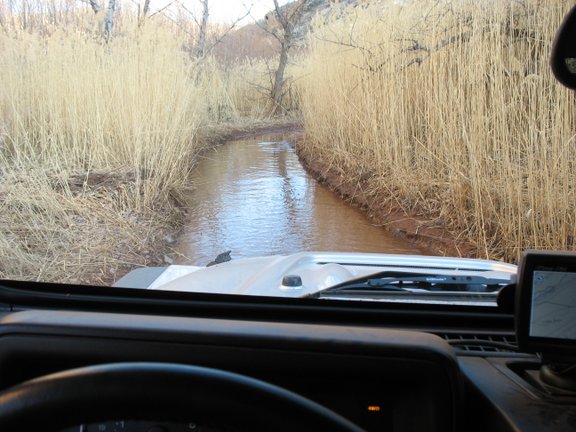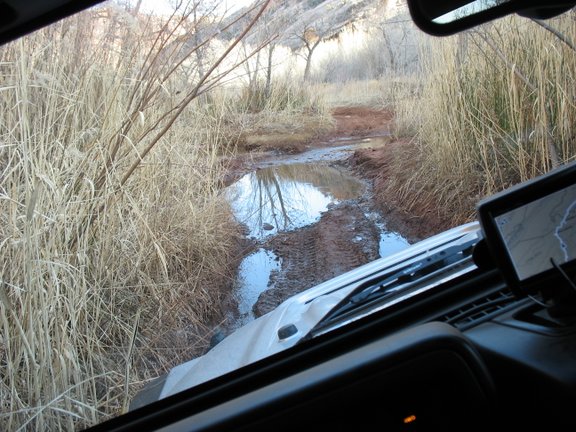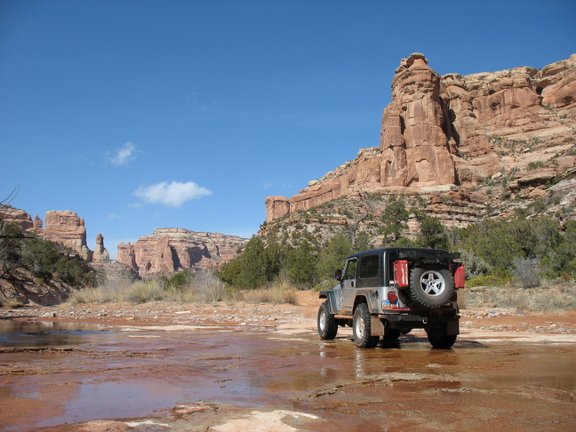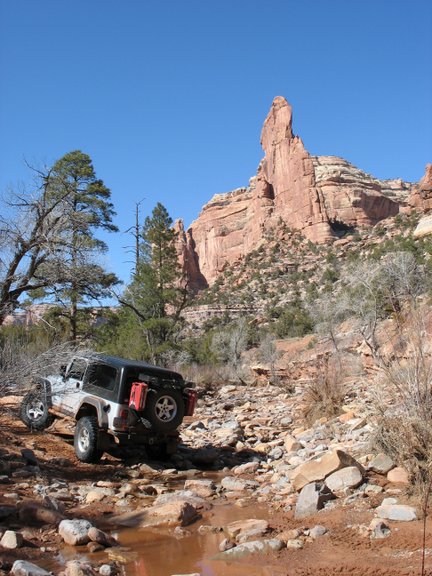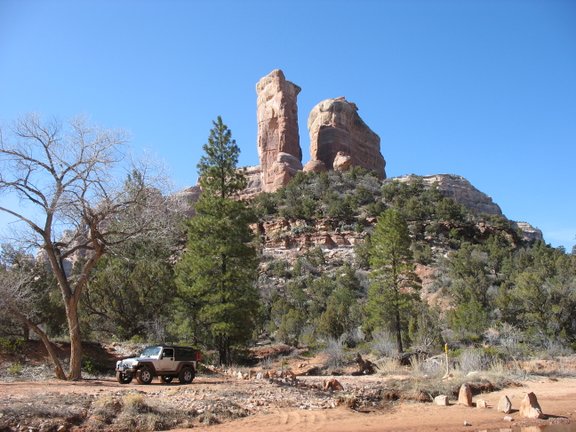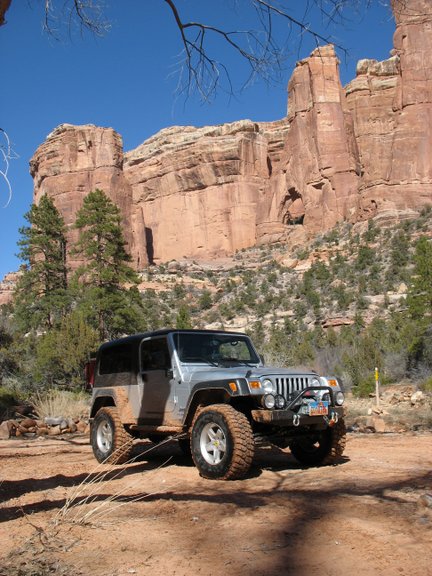 I especially enjoyed walking up to inspect several of the many Anasazi ruins in the canyon. This one, I particularly enjoyed. It took a bit of a scrambling and careful scooting along a ledge for my worn out old knees to get to, but well worth the effort. Note that the ceiling timbers are still intact, and what looks to me like the remains of a T shaped portal.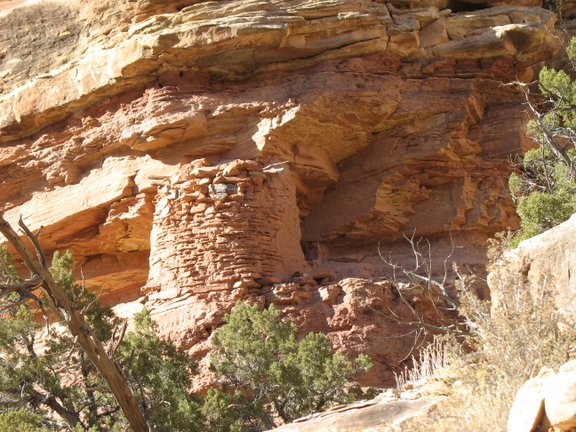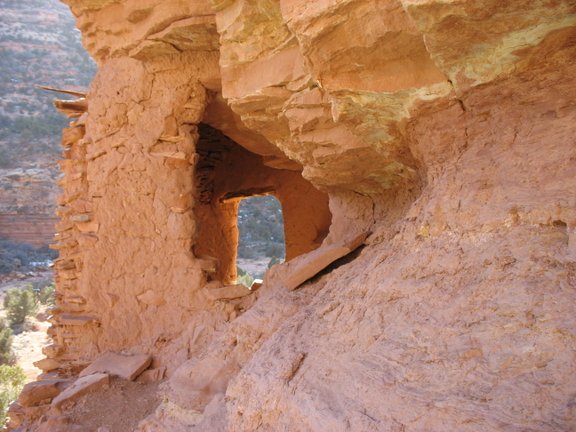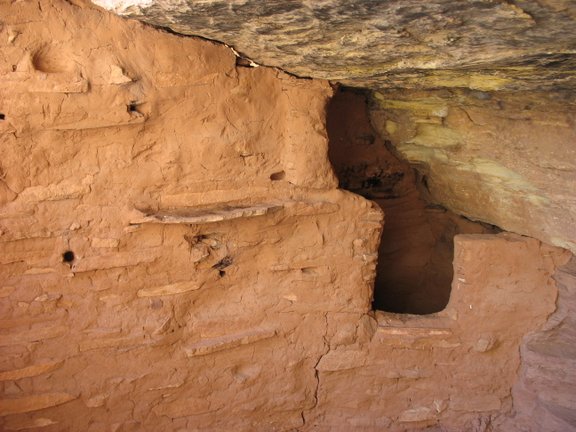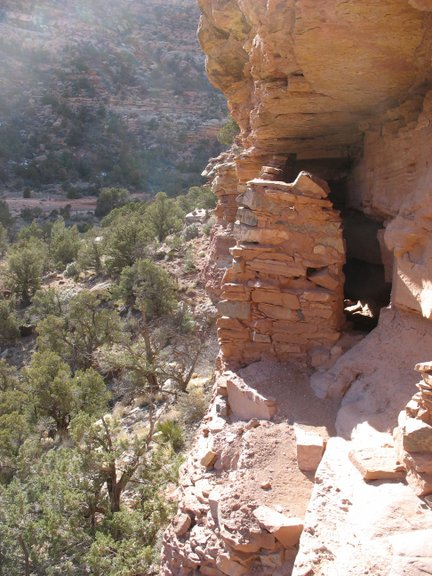 I spent probably half an hour, just looking at the hundreds of finger and palm prints visible in the masonry of this interior wall: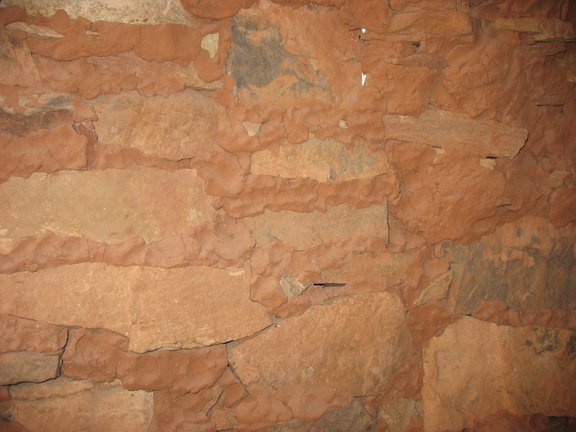 A few picto's (very faded) and petro's too: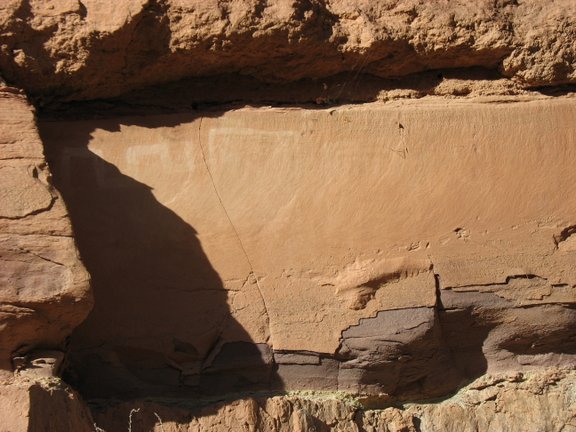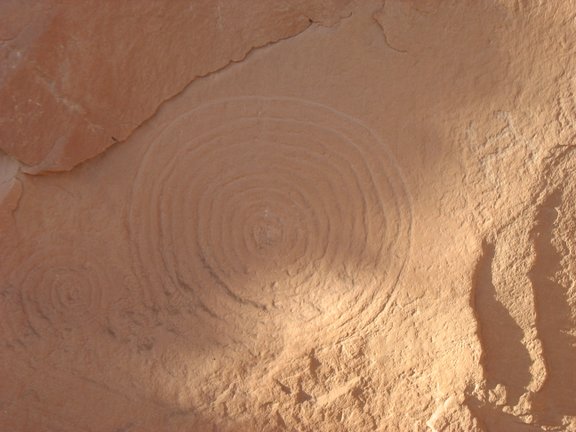 It was tempting to camp at the end of the trail. But, I knew I needed to drive home the next morning, and figured it probably wiser to get out of the canyon and pitch camp closer to the hiway. I camped in the cottonwoods near the trail entrance. A cool wind coming down out of the canyon, combined with the fresh memory of the cold night before, and plenty of daylight left, I opted for the tent this last night.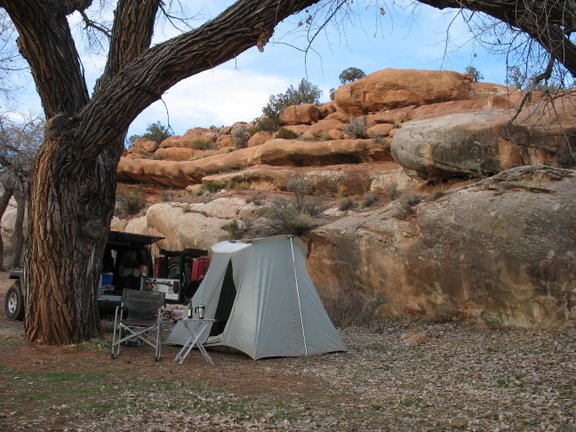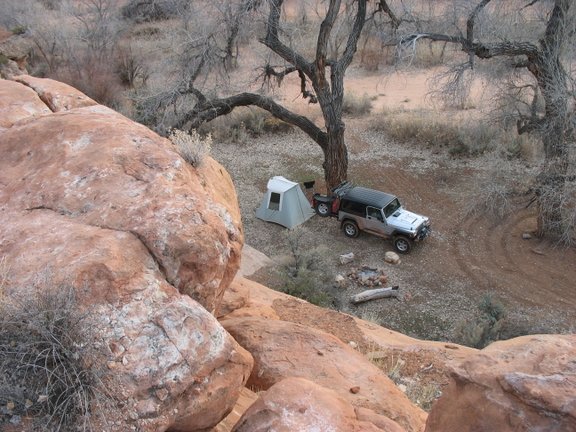 My dinner of ribeye steak and fried potatoes eaten (does steak and potatoes ever get old?), I settled down with cigar, whiskey and Abbey for the duration of the evening.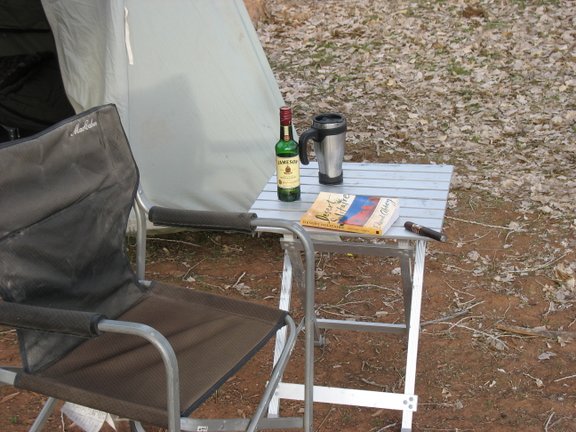 I didn't notice the cold, sleeping in the tent. But judging from the coffee water frozen into a solid block and the frozen bottled water, it must have been a cold night. Absolutely stunning, glorious morning though! After packing up camp, I knew I should be heading home, but couldn't resist driving up the wash a short distance and following a random side road until it ended. On the way back towards the hiway, I further couldn't resist starting up just the beginning of the Hotel Rock trail and going up to the overlook for a photo opp.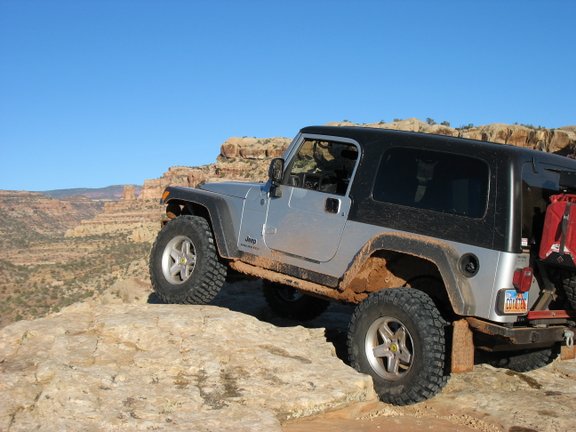 All good things must end though. So, out to the hiway I went… Here, I had another decision to make. Left, to Blanding/Monticello/Moab/Home. Or right, to take the long way, through Hanksville. Being a lifelong devotee of the Great Circle Theory of Navigation, never back track when you can make a loop instead, this choice was easy. The Jeep turned right, towards Hanksville, all on it's own. The Jeep likes the Great Circle Theory as much as I do.
As the Jeep came up to hiway speed, I thought it was still early enough, I ought to hit the Natural Bridges loop while I'm in the area. So, that was the plan. But… Be-bopping up the road, not a care in the world, onto my GPS screen came a "point of interest". Cave Towers. Hmmm… I'd heard of this. Supposed to be some neat ruins. Fairly wild. Looked to be just barely off the hiway, too. To heck with Natural Bridges, I'm going to check out Cave Towers instead. Or, so I thought… The GPS showed a short spur, off a more major dirt road, alltogether less than two miles off the hiway. I made the turn onto the major, graded dirt (deeply rutted now, from the first traffic of the spring thaw…), and started looking for the side road that should be on my left. There it is… Looked perfectly innocent enough. But, as I started down it, I immediately noted that I was likely the first vehicle to travel on it this spring. The track wound through a dense pinion/juniper forest. The sun wasn't quite hitting the track yet, the track being comprised of semi frozen mud, likely to become very deep thick mud later this morning when it warmed up. Twice I stopped to move dead falls off the trail – again, evidence enough that I was probably the first one down it recently. Then came a section where the whole track was tremendously eroded. What had no doubt started as a tire rut on one side was now a deep runoff ditch. Deep enough, that I didn't want to let that side of the Jeep get down in it, for fear of flopping. The deepness of the rut, combined with just the right momentum from a muddy slide down into it had caused me to tip my Scout on it's side in exactly such an innocent looking spot once, years ago, and I've been nervous about them ever since. I was able to stay to one side and out of it, but only because the mud was still semi frozen. I knew that once it warmed up a bit, I'd get sucked down into it, like it or not. Oh well, nothing ventured, nothing gained, and it really wasn't anything anway, just a deep rut on one side of the track… Well, I never found Cave Towers. I got out and hiked about a mile to the spot marked on the GPS, the point marked being in the middle of a dense P/J forest with nothing there. Such points provided by the GPS are notoriously indefinite. I figured I was probably "close" to Cave Towers, but clearly, not there. Not really knowing, I guessed my destination was likely over in yonder canyon, likely towards the head of it, which I estimated to be at least another half mile away. I was worried about that mud thawing out though… I decided that I'd have to get some better beta and come back another time to check out Cave Towers. Time to get the heck out of here.
So… Sure enough, the mud had started to thaw. The new tires, KM2's, were doing a pretty good job in it though, and I had ceased worrying when the Jeep suddenly went sideways in the track and the azz end slid down into the rut I'd been trying to keep out of. Oh well, it hadn't been a sideways slide, more of a diagonal, and the Jeep never got tippy. I had no choice now though, but to bring the one side of the front end down into it. There would be no sense in trying to climb out of it now. The front end came down in gently and gracefully as could be though. No drama. Worried about nothing. Just steady and slow, listing hard to the passenger side for half a mile and I was clear of the rut and on my way home.
A GPS track of the south portion of my trip:
Maybe I'll finally get to do that Beef Basin exploration trip next spring… – DAA
For more discussion and details on this report and others join us on the forum. To join Click Here