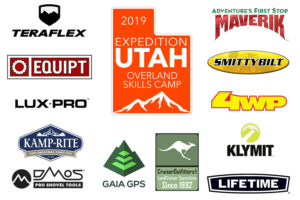 Overland Skills Camp 2019 has gone down in the history books as a smashing success. We had a substantial increase in size, scope and attendance yet maintained the in-depth hands-on interaction and personal learning we set out to provide. Our attendees spent time learning about a variety of back country subjects including vehicle recovery, amateur radio, navigation, land use and more with top shelf instructors and volunteers. Our staff consisted of 100% volunteers and there is a 0% chance we would have had the same level of success without each and every one of those volunteers.
We can't thank our sponsors enough. With their generous financial and product support we were able to provide a first class event and offer attendees some fantastic gear in their registration packets all for a modest and approachable cost. Thank you to Maverik, LuxPro, Klymit, DMOS Collective, Gaia GPS, Cruiser Outfitters, Equipt Expedition Outfitters, Land Cruisers Direct, Kamp-Rite, 4 Wheel Parts Wholesalers and Smittybilt. A special thanks to Lifetime Products for sponsoring our National Public Lands Day service project and Teraflex Suspensions for sponsoring Saturday's dinner feast.
We would also like to thank East Carbon City for their help, use of facilities and generous manpower, particularly Donald, Bert and Cody who spent many hours prepping the event site and placing the dumpsters for our massive cleanup project. All of the event food and supplies were provided by Miners Trading Post, Jim and Brittnie were absolute rock stars with the catered meals and overall support of the event. Our tent and hand washing stations were provided by Santiago and Miguel from Garcia's Rental who handled the onsite setup and take down.
Our Sunday morning service project had us scouring the greater area for trash including hundreds of tires that we worked with the city to properly dispose of. We can comfortably say we left the site not only cleaner than we found it, but much cleaner than it has been in decades. Thanks again to Lifetime Products and East Carbon City for supporting the project.
Last but not least we would like to offer a sincere thank you to the participants that traveled from all over the US to be part of this event. We hope you found it rewarding, relevant and a fantastic value. We hope you plan to return to this and other Expedition Utah events and are comfortable recommending Overland Skills Camp to your friends and family.
We look forward to seeing you all at Overland Skills Camp 2020!
– Expedition Utah Staff, Instructors and Volunteers